Marché des Possibles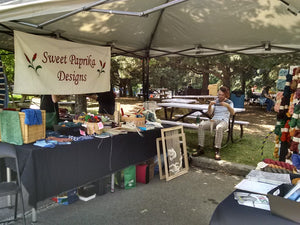 Earlier this spring I got an email from Pop Montreal with a call-out for vendors for the Marché des Possibles, which they organize on summer weekends in the Mile End neighbourhood. I happened to mention to my wonderful dye studio interns that I would love to do it but didn't think I had time to deal with organizing it. "We'll do it!" they said, and so I booked us a booth for the weekend of July 16 and 17.
We were there during the day market hours (there's also an evening market as well as concerts and other events) and we brought some Sweet Paprika yarn and patterns, but also set up a smattering of fun demos as a kind of "fibre craft tasting". We had quite a few passers-by come in try their hands at knitting, crochet, spinning, and weaving on frame looms.
Since I am on a knitting hiatus at the moment (I seem to have developed a slight case of tendonitis and need to rest my hands) I took some time while we were there to work on some of my other crafting that often gets neglected in favour of knitting or crochet.
I finished off spinning some fibre that I've been working on for much too long (just needs to be plied now!) and I got out my Zoom Loom, a fun little piece of equipment that I haven't fully explored the potential of yet.
The Zoom Loom is a 4 x 4 inch pin loom, which is threaded by wrapping the yarn around the pins in a very precise pattern. The weaving is then completed using a long needle. It's a little complicated to sort out the wrapping pattern the first time or two but it goes very quickly once you get the hang of it. I was even experimenting with using different yarns for warp and weft by the end of the day.
Of course, part of the fun of being at a market is checking out the wares of the other vendors... I managed not to spend too outrageously this time, but I did come away with a lovely card from Robin Clugston.
And on Sunday afternoon we had the good fortune of being booth neighbours with Shane from Tabletop Books. Among his great selection of second-hand books I found this set of the Wrinkle in Time trilogy (which was one of my favourites growing up) and decided it needed to come home with me too.
All in all it was a fun weekend and a well-organized event. Along with the artisans and performers there was also selection of food vendors, including popsicles, asian-style shaved ice, and the most refreshing chia lemonade I've ever had. The Marché des Possibles continues all summer, and programming for upcoming weekends is usually announced on Facebook. It's definitely worth keeping an eye out for fun upcoming activities if you're in the area!
Save
Save
---
Leave a comment
---
Also in News
We first met Catherine Knutsson, our collaborator on the
Beyond Merino yarn club
, when she organized the Great Canadian Wool-Along last summer as a way to celebrate crafting with local materials and supporting Canadian wool farmers. We loved the concept of the wool-along, and jumped at the chance to connect with a community of Canadian wool-lovers.
This year we're celebrating Sweet Paprika's 15th anniversary, and it's honestly been a bit hard to get my head around where the time has gone! We've been looking back through some of our old photos, and thought it would be fun to share a little retrospective here. Our little business has come a long way in the past 15 years!
Most of the images I'm including are not our polished product photos (although those have also come a long way since the early days), but more of a behind-the-scenes look at some of the memorable stepping stones along our journey.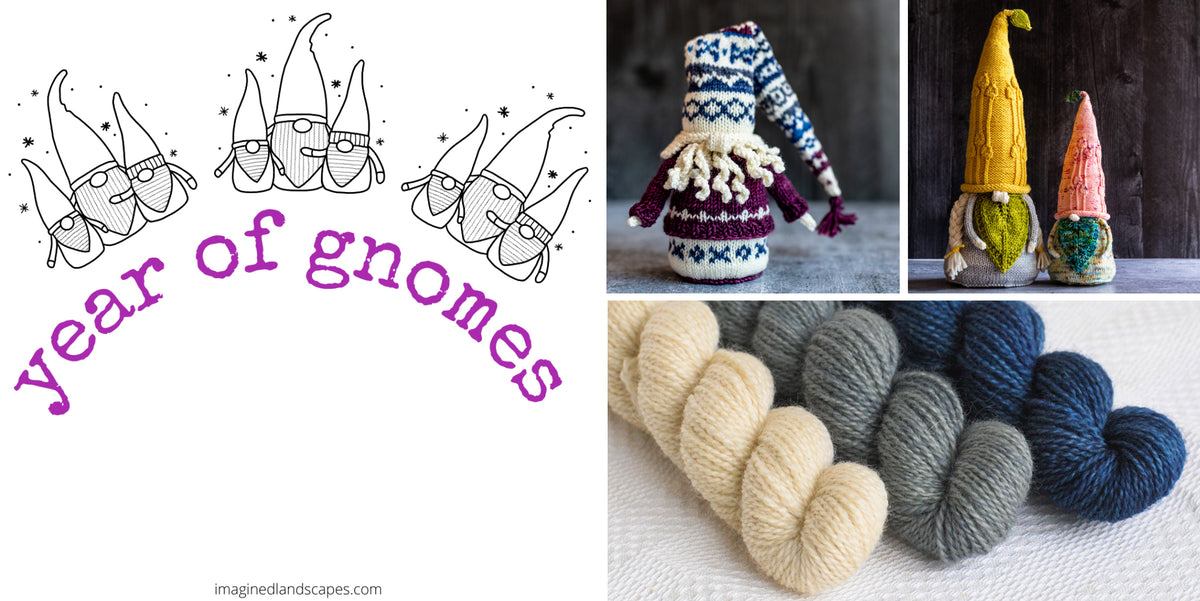 Last December, just as we were shutting down the dye studio for a holiday break, we got an email from one of our favourite customers telling us all about an upcoming event we might want to look into: the
Year of Gnomes Knit-Along
. We loved the idea, and couldn't resist joining in by dyeing up some mini-skein Gnome Sets for you to play with. We ordered in some special yarn as soon as we got back to work in January, and our
Gnome Sets
are now ready to head on out into the world!