Socktober (or Sicktober...)
This year Elizabeth and I wanted to create some fun plans for Socktober, a month-long celebration of sock-knitting! We had things all lined up for a sock-focused knit-along among other things, but just as we were getting ready to launch I got really, really sick. Elizabeth stepped in and helped me out with trying to get things organized (even though she's supposed to be on maternity leave), and everything more-or-less went along the way we'd planned... except that I didn't get better - I got worse.
It turns out that I have mononucleosis (commonly referred to as mono), a really nasty viral infection that sucks all the energy right out of you. There's no treatment for it other than rest, so I've spent the better part of the past four weeks trying to take it easy and recuperate. 
But, since I'm not very good at actually doing nothing, I've been getting a lot of knitting done! While I was stuck on the couch resting I needed something to keep my hands busy, and some relatively mindless sock knitting was the perfect thing for me this month. 
This pair of Vivace socks took me less than a week to complete, which I'm pretty sure is a record for me. They still need a good blocking, but other than that they're finished, ends woven in and everything. 
When the first pair was done, I almost immediately cast on a second in an effort to avoid going stir-crazy. These ones are Lazy Day Socks, and I'm striping the leftover yarn from the first pair with some other fingering-weight I found in my stash. The pattern is super simple, but I don't usually knit socks toe-up so these are a fun little challenge for me. I'm excited to get to the afterthought heels but I'm waiting to do them both at the same time so I can make sure they match.
Both of these pairs of socks are destined to be donated to Dans La Rue, a local charity that works with homeless and at-risk youth. While we were in the planning phases for our Socktober events, we realized that Socktober hashtag has been in use on various social media the past few years as a way to encourage donations of socks (an item that's often in high demand) to homeless shelters and other charities. So, as well as encouraging sock knitting this month, we're also encouraging donations of socks to local charities. 
We put out the word that we'd be collecting socks at our October knitting tea last weekend (as well as the November one next month) and we've got a great start already. Many thanks to Lucie and Armen for sharing your talents!
If you are inspired to join us, we're offering a free PDF pattern to anyone who donates socks (hand-knit or otherwise) to a local charity before November 30, 2017. To claim your pattern you can post in our Ravelry group, email us with a photo of the socks you'll be donating and the name of your chosen charity, or bring them to us in person at our knitting tea at La Societe Textile on November 18. 
Save
Save
---
Leave a comment
---
Also in News
We first met Catherine Knutsson, our collaborator on the
Beyond Merino yarn club
, when she organized the Great Canadian Wool-Along last summer as a way to celebrate crafting with local materials and supporting Canadian wool farmers. We loved the concept of the wool-along, and jumped at the chance to connect with a community of Canadian wool-lovers.
This year we're celebrating Sweet Paprika's 15th anniversary, and it's honestly been a bit hard to get my head around where the time has gone! We've been looking back through some of our old photos, and thought it would be fun to share a little retrospective here. Our little business has come a long way in the past 15 years!
Most of the images I'm including are not our polished product photos (although those have also come a long way since the early days), but more of a behind-the-scenes look at some of the memorable stepping stones along our journey.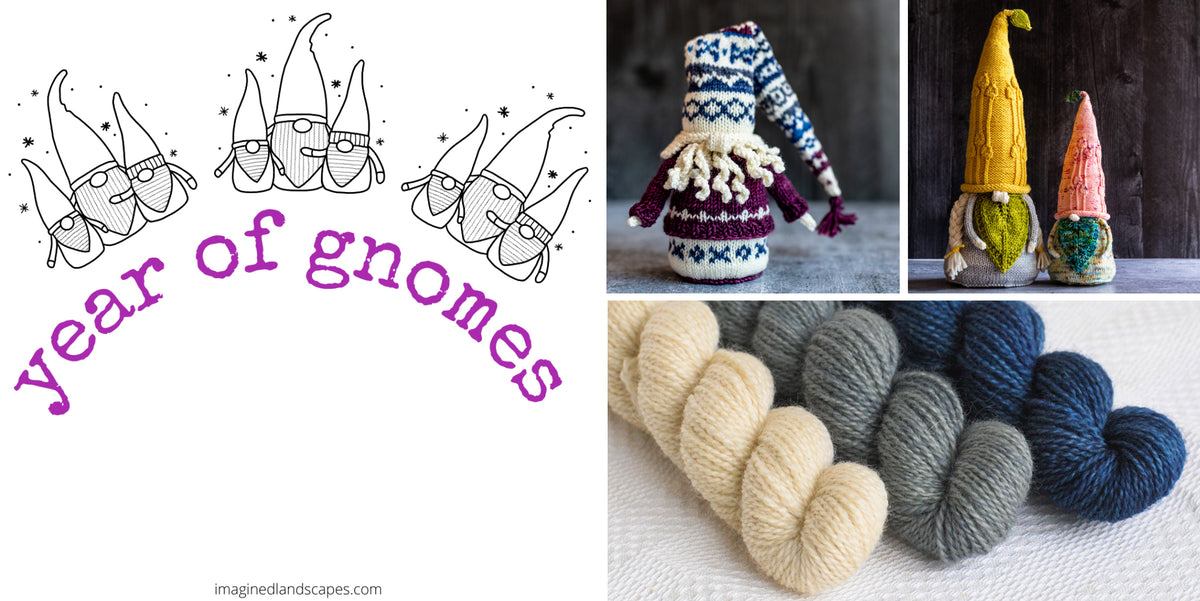 Last December, just as we were shutting down the dye studio for a holiday break, we got an email from one of our favourite customers telling us all about an upcoming event we might want to look into: the
Year of Gnomes Knit-Along
. We loved the idea, and couldn't resist joining in by dyeing up some mini-skein Gnome Sets for you to play with. We ordered in some special yarn as soon as we got back to work in January, and our
Gnome Sets
are now ready to head on out into the world!