Kith & Kin designer interview: Thorn Maiden Designs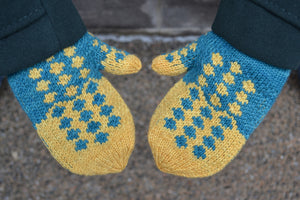 Rachel Anderson
Next up in our series of blog interviews is Rachel Anderson from Ireland, designer of the Blue Skies and Butterflies mittens.
Rachel originally planned to offer these mittens in two sizes, but when I asked her if she could expand the size range from child to adult, she more than rose to the challenge and sent us a pattern with 8 sizes to fit everyone from toddlers to men's extra large!
My husband thinks these would be great in black and grey, but I love the cheerful yellow and blue together.
Was there a specific inspiration for your mitten design?
My inspiration is often a coming together of widely-different things. The Blue Skies & Butterflies mittens came out of a combination of an earworm doo-wop song, Escher's Sky and Water I print, and an Estonian braid made by a friend!

Blue Skies and Butterflies mittens
Did you have a point in the design process where things weren't going the way you wanted them to? What did you do to get past that?

I originally intended to do a smaller range of sizes, with only one chart. When I expanded the range, I spend a while trying to use the same chart with lots of extra annotations until it dawned on me that it would be easier to just have two charts. Sometimes I make things complicated for myself!
Is there a place that inspires you?
I live in a beautiful part of the world, Fermanagh in Northern Ireland. The landscape changes from day to day, and the clouds – of which there are many, oh, so very many - are amazing. We're far enough north to get the Northern Lights, and rural enough for star-gazing without the problem of light pollution – my son and I can often be found lying in sleeping bags outside, watching meteor showers. It's a traditional farming area, and I often wake up to find sheep, ponies or cattle taking care of the lawn for me! The colours around me really inform my design work. There's also a weird mix of tradition and modernity – farmers shearing sheep with old-fashioned clippers while using their iPhones to tracking tag numbers – that's stimulating to my process.

View from Rachel's office: Irish lawnmowers
Which type of needles do you usually use to knit mittens: double-pointed needles, two-circulars, magic loop…?
Dpns all the way! I have a huge collection, bundled up in loom-bands in a big canvas shopper – mostly the usual grey aluminium, but also 1920s steel pins that are roughly 0.5mm, several precious casein sets from the 1930s, tortoiseshell and coloured plastic from the 50s and 60s, a couple of sets of 2-foot long Shetland 'wires' for Fair Isle knitting, and my most recent acquisition – Knit Pro Zings. I've been known to knit garments in the round on up to 15 dpns before circular needles were widely available here! I get a great response knitting in public with dpns: elderly people reminiscing about their mothers (and often their fathers) knitting socks, younger people thinking it's some kind of arcane magic...
What is the fall and winter weather like where you live? How many months of the year do you wear mittens or gloves?
Cold, wet, and miserable – not unlike the spring and summer, really! That's Ireland, unfortunately. We rarely get snow, but our icy winds are a more than adequate substitute! Mittens and gloves are essential between January and May, and strongly advised between October and December. Last year we had ice showers in July, and this last August was the coldest in 80 years – so the gloves never really go away!
Can you describe your favourite pair of mittens that you've ever owned?
I've had so many – poor circulation! I have some very clear memories of admiring a pair of pink and white furry mittens with embroidery on the back, sent with a matching coat from Canada by my aunt. I would have been 2 or 3 years old at the time, and thought I was soooo fancy! Then there's a pair of lacy mitts that got me in trouble at my strict, uniformed school - it was the 80s, fashion was more important than chilblains. My favourite over the last few winters is an adult version of my free Mitts to Mittens pattern, which are great for knitting on chilly days.
Do you do any other fibre-related crafts besides knitting? Crochet, spinning, weaving, sewing, quilting, etc?
I crochet, and occasionally I spin, though I've yet to get addicted. Sewing is not my forte, although I really should have a go at it again.
What was the first thing you ever designed?
My first knitted design was probably the knitted tie I made my father not long after he taught me to knit – I was about 5 or 6. The first serious attempt to put a pattern on paper was when I self-published a crocheted hair scrunchie design to get myself added as a designer on Ravelry! My first proper professional design, though, was the Utility Corset which appeared in Cooperative Press' Doomsday Knits.

Rachel's office
When you aren't knitting and designing, what are you doing?
For fun and profit, I fix, upgrade and re-build computers, and tutor mathematics. I read voraciously, both fiction and non-fiction, and have worn out three Kindles in 5 years! I'm starting to draw again, after a break of over a decade, and I've just begun piano lessons for the first time…
Where can we find you and see more of your design work?
Ravelry is the best place to look. I have a blog, but rarely update it!
Thank you Rachel!
---
Leave a comment
---
Also in News
We first met Catherine Knutsson, our collaborator on the
Beyond Merino yarn club
, when she organized the Great Canadian Wool-Along last summer as a way to celebrate crafting with local materials and supporting Canadian wool farmers. We loved the concept of the wool-along, and jumped at the chance to connect with a community of Canadian wool-lovers.
This year we're celebrating Sweet Paprika's 15th anniversary, and it's honestly been a bit hard to get my head around where the time has gone! We've been looking back through some of our old photos, and thought it would be fun to share a little retrospective here. Our little business has come a long way in the past 15 years!
Most of the images I'm including are not our polished product photos (although those have also come a long way since the early days), but more of a behind-the-scenes look at some of the memorable stepping stones along our journey.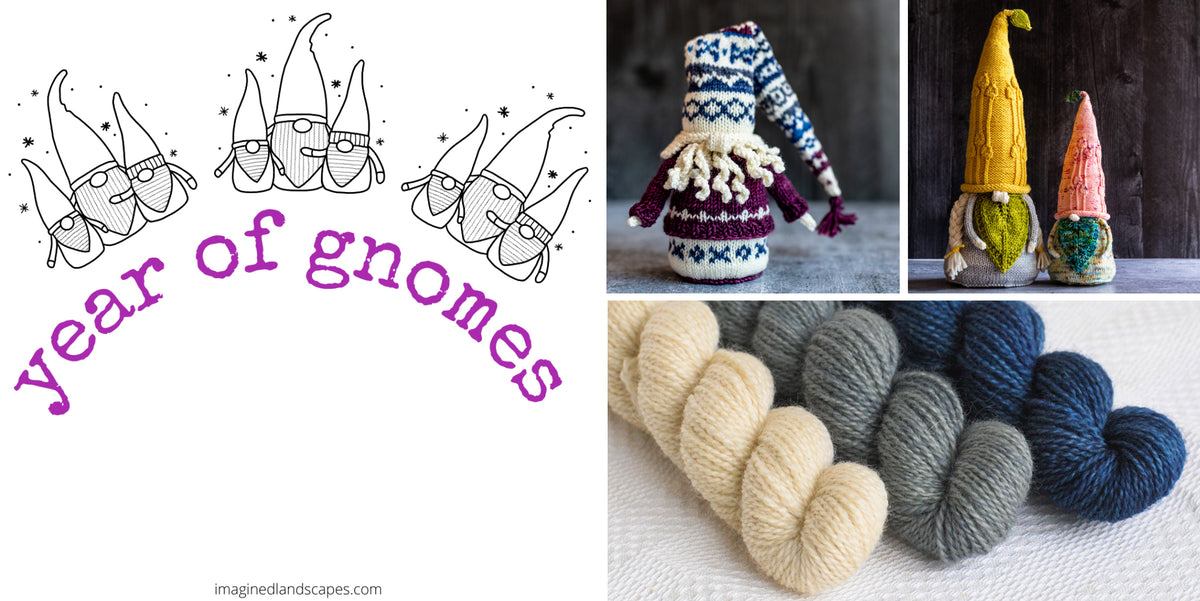 Last December, just as we were shutting down the dye studio for a holiday break, we got an email from one of our favourite customers telling us all about an upcoming event we might want to look into: the
Year of Gnomes Knit-Along
. We loved the idea, and couldn't resist joining in by dyeing up some mini-skein Gnome Sets for you to play with. We ordered in some special yarn as soon as we got back to work in January, and our
Gnome Sets
are now ready to head on out into the world!