Colour Naming Contest!
WE HAVE A WINNER!
The new name for this yarn is... Allspice! Congratulations to Linda, who suggested the name and will receive a skein of yarn as her prize, and to Grete, our randomly selected winner who will receive sock knitting pattern as her prize.
Thank you to everyone who entered, we had some really amazing name suggestions, it was hard to choose just one!
One of my favourite tasks to have our interns help out with in the studio the past two summers has been creating new colours for our yarn lines. Last year we got to play with dyeing a new base yarn, which eventually became Largo Organic. This year we wanted to focus on expanding the colour range for our Pizzicato sock yarn (a fingering-weight BFL/nylon blend). 
We started by looking through the colours we already offered on the Pizzicato base, and checking to see where the gaps were. Annie suggested we really needed a true bright red, and maybe a brighter green as well. Here are the final results of her experiments, Heartbeat and Tree Frog. 
Heartbeat
Tree Frog
Fabio on the other hand was inspired to try to achieve a deeper, richer tone, and created this gorgeous burgundy colour. He suggested we name it Palestra, after a type of dark wine his grandfather used to make. 
Palestra
I wasn't going to be left out of all the fun, and created one new colour myself as well. I wanted to make a darker fairly neutral colour that still had depth and interest. 
Name this colour!
I really love how this turned out, deep brown with touches of red and blue undertones, but I need help naming it - so we've decided to have a contest!
How to Enter:
Simply leave a comment on this post with your suggestion before midnight on Wednesday, August 30, 2017.
Enter as many suggestions as you want, but please keep each suggestion in a separate comment.
We'll pick 2 winners on Thursday, August 31 (one will be the person who suggests the winning name, and one will be randomly selected from all entries). Winners will be contacted by email. 
The person who suggests the winning name will receive 1 skein of Pizzicato sock yarn in the as-yet-unnamed colour.
The randomly chosen winner will receive a PDF copy of 1 Sweet Paprika sock pattern of their choice. 
Save
Save
---
100 Responses
Leave a comment
---
Also in News
We first met Catherine Knutsson, our collaborator on the
Beyond Merino yarn club
, when she organized the Great Canadian Wool-Along last summer as a way to celebrate crafting with local materials and supporting Canadian wool farmers. We loved the concept of the wool-along, and jumped at the chance to connect with a community of Canadian wool-lovers.
This year we're celebrating Sweet Paprika's 15th anniversary, and it's honestly been a bit hard to get my head around where the time has gone! We've been looking back through some of our old photos, and thought it would be fun to share a little retrospective here. Our little business has come a long way in the past 15 years!
Most of the images I'm including are not our polished product photos (although those have also come a long way since the early days), but more of a behind-the-scenes look at some of the memorable stepping stones along our journey.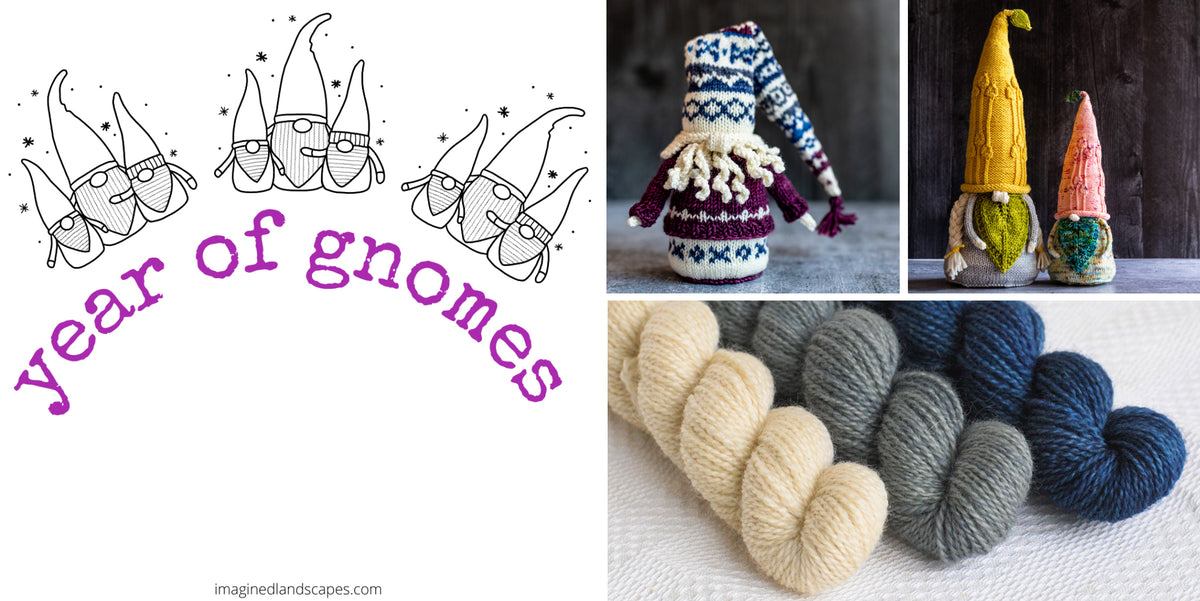 Last December, just as we were shutting down the dye studio for a holiday break, we got an email from one of our favourite customers telling us all about an upcoming event we might want to look into: the
Year of Gnomes Knit-Along
. We loved the idea, and couldn't resist joining in by dyeing up some mini-skein Gnome Sets for you to play with. We ordered in some special yarn as soon as we got back to work in January, and our
Gnome Sets
are now ready to head on out into the world!