Lanark gloves project gallery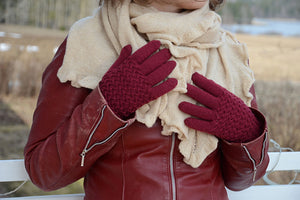 Today's featured pattern in our 100 Days of Patterns project is Lanark, one of my design contributions to our Cloudy Day Collection (published way back in 2012). They're knit in our Messa di Voce fingering-weight superwash merino, in the Chimney Smoke colourway.
When we were planning out the collection I wanted to design some socks, and I started swatching with that idea in mind. I loved the way this stitch pattern looked, and wanted to use it, but realized before I got very far that it was much too dense and not elastic enough for socks. After a bit of consideration, I realized that these little cables would actually be perfect for gloves, so I ripped out the socks and started from scratch!
These gloves are quite snugly fitted, and the dense stitch pattern creates a durable fabric that blocks the wind and helps keep your fingers warm. I've been wearing my own pair every winter since we published this pattern 8 years ago. I've darned the fingertips a few times, and the colour has faded a little, but otherwise they're still going strong!

My original pair of Lanark gloves, 8 years (and a little darning) later
There are many wonderful projects using this pattern on Ravelry, and we've collected a few of our favourites here. It's fun to see how different they can look depending on the colour choice, from elegant greys and neutrals to fun and vibrant variegated yarns.

This pair of Lanark gloves is striking in bright blue
Knitter/photo credit: Raven (RavenEphemera on Ravelry)

This knitter has knit not just one...
Knitter/photo credit: inansa on Ravelry

...but TWO pairs of Lanark over the years 
Knitter/photo credit: inansa on Ravelry

Lanark in a slightly more variegated yarn
Knitter/photo credit: Katrina (irrakatze on Ravelry)

Lighter colours really show off the texture of the stitch patterns
Knitter/photo credit: Mary (purlicueknits on Ravelry)
Thank you to all the knitters who agreed to let us use their project photos for this post! I find designing and writing patterns to be quite stressful sometimes (I worry that either no one will think it's worth making, or that there will be mistakes or sizing issues, or the pattern will be so fiddly people won't enjoy knitting it, or something) so it's very gratifying to see people take my instructions and use them to transform their yarn into something beautiful that makes them happy.
---
Leave a comment
---
Also in News
We first met Catherine Knutsson, our collaborator on the
Beyond Merino yarn club
, when she organized the Great Canadian Wool-Along last summer as a way to celebrate crafting with local materials and supporting Canadian wool farmers. We loved the concept of the wool-along, and jumped at the chance to connect with a community of Canadian wool-lovers.
This year we're celebrating Sweet Paprika's 15th anniversary, and it's honestly been a bit hard to get my head around where the time has gone! We've been looking back through some of our old photos, and thought it would be fun to share a little retrospective here. Our little business has come a long way in the past 15 years!
Most of the images I'm including are not our polished product photos (although those have also come a long way since the early days), but more of a behind-the-scenes look at some of the memorable stepping stones along our journey.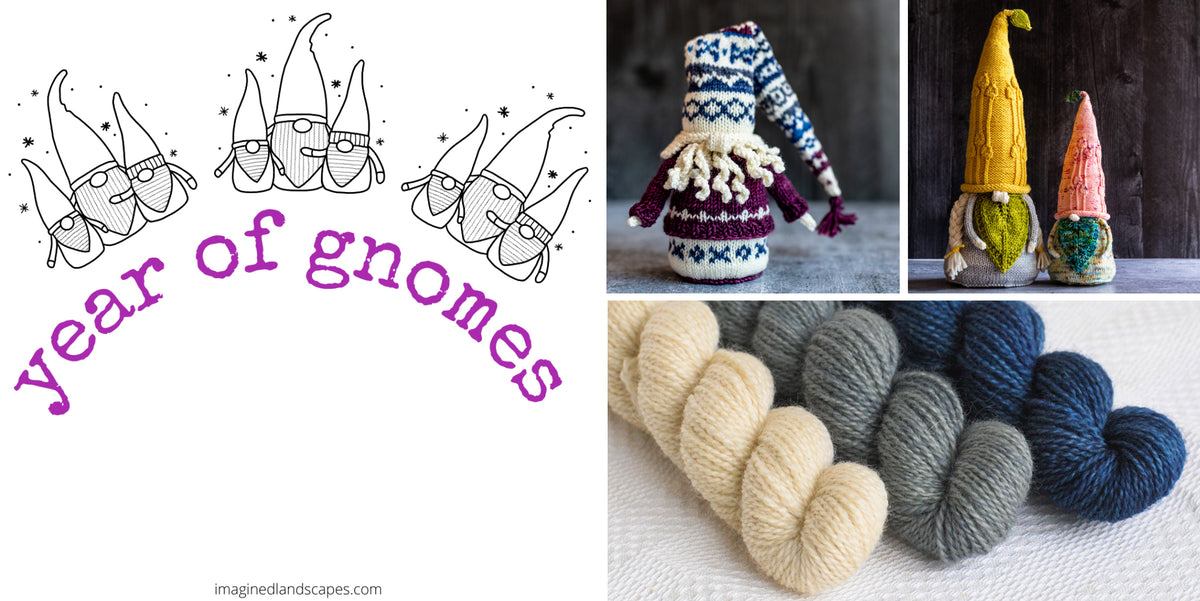 Last December, just as we were shutting down the dye studio for a holiday break, we got an email from one of our favourite customers telling us all about an upcoming event we might want to look into: the
Year of Gnomes Knit-Along
. We loved the idea, and couldn't resist joining in by dyeing up some mini-skein Gnome Sets for you to play with. We ordered in some special yarn as soon as we got back to work in January, and our
Gnome Sets
are now ready to head on out into the world!