Patterns for Presto!
This is the time of year when I start itching to get back to all my knitting plans that have fallen by the wayside during the hotter summer months, and I'm sure I'm not the only one. Our bulky-weight Presto yarn is a great choice for a quick and gratifying fall project, and we're really excited to announce the publication of four new patterns using this yarn.
We sent a skein of Presto each to three different indie designers at the beginning of the summer, and they've all come up with great ways to use this soft and squishy yarn. In fact, we were so inspired by their patterns that Elizabeth decided to add a design of her own to the collection!
The Sweet Dreams hat is Zev Hurwich's creation, in our Calico Skies colourway. Zev is an up-and-coming designer based in New York City who specializes in men's sweater patterns. This toque features a fun cable pattern, and I love how the cable strands all come together in the crown decreases. I'm hoping to get one of these cast on myself very soon, I just have to decide which colour to use...
If you'd like to knit along with me you can find the Sweet Dreams pattern on Ravelry or on Zev's website: www.hurwichcraft.com. 
The skein of Presto that went on the farthest journey this summer traveled all the way to Annina (the brains behind Artesanitarium Designs) in Finland. Artesanitarium patterns are always unique and often feature interesting or unexpected construction. The Cyclone Cowl (shown in our August colourway) is no exception, since it's a tube that's knit flat but requires no seaming! Annina says it's the perfect accessory for fall cycling, since it can cover both your nose and your ears. 
You can find the Cyclone Cowl pattern on Ravelry, and more information about Annina and her other designs on her website: www.artesanitarium.com. 
If you're looking for an even quicker project to keep your ears warm, the Celtic Headband (shown in our Boysenberry colourway) might be just what you need! The cable instructions are given in both written and chart form in this free pattern created by Juliana Lustenader. I just found out that Juliana is also an actress and singer-songwriter (when she's not designing gorgeous patterns) and you can see her perform an original song with her duo Baird and Beluga here. 
You can download the Celtic Headband pattern for free on Ravelry, and find more information about Juliana on her website: www.julianalustenader.com. 
Last but not least we have Elizabeth's latest design! The Dissymmetry Cowl is also a free pattern, shown in the Sea Breeze colourway. This is a super simple pattern, so it's great for beginners, but its unusual shaping makes it an interesting knit for more experienced crafters as well. The pattern includes a photo tutorial showing how to fold and wear this unique cowl, and the design can easily be adjusted for a tighter or looser fit by changing the button placement. 
You can find the Dissymmetry Cowl pattern on Ravelry, or download your free PDF copy here. 
---
Leave a comment
---
Also in News
We first met Catherine Knutsson, our collaborator on the
Beyond Merino yarn club
, when she organized the Great Canadian Wool-Along last summer as a way to celebrate crafting with local materials and supporting Canadian wool farmers. We loved the concept of the wool-along, and jumped at the chance to connect with a community of Canadian wool-lovers.
This year we're celebrating Sweet Paprika's 15th anniversary, and it's honestly been a bit hard to get my head around where the time has gone! We've been looking back through some of our old photos, and thought it would be fun to share a little retrospective here. Our little business has come a long way in the past 15 years!
Most of the images I'm including are not our polished product photos (although those have also come a long way since the early days), but more of a behind-the-scenes look at some of the memorable stepping stones along our journey.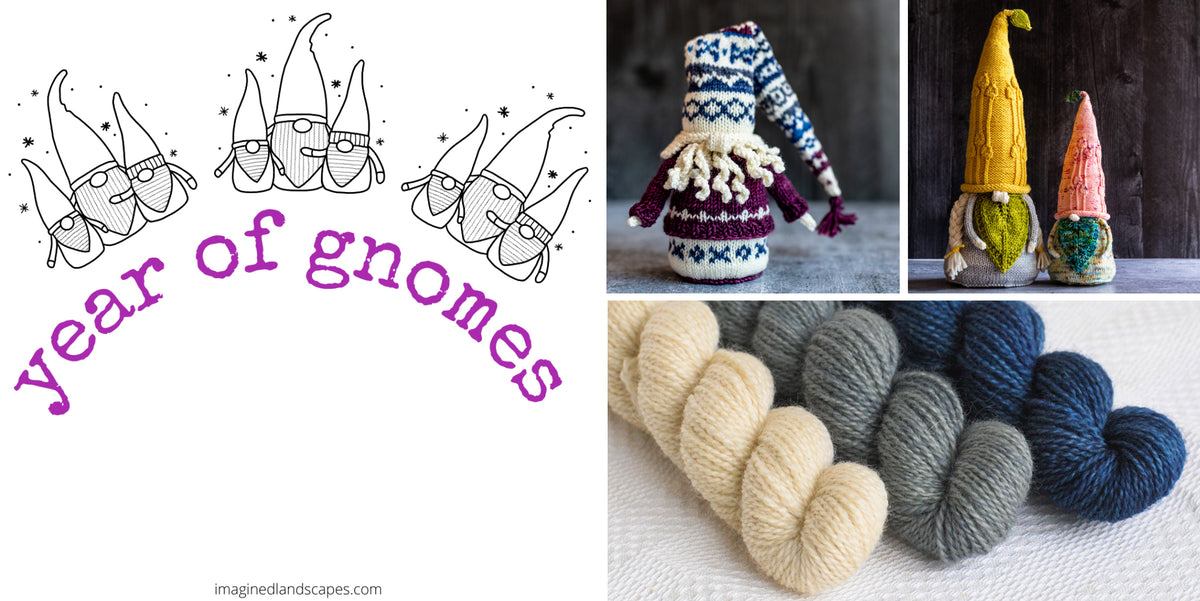 Last December, just as we were shutting down the dye studio for a holiday break, we got an email from one of our favourite customers telling us all about an upcoming event we might want to look into: the
Year of Gnomes Knit-Along
. We loved the idea, and couldn't resist joining in by dyeing up some mini-skein Gnome Sets for you to play with. We ordered in some special yarn as soon as we got back to work in January, and our
Gnome Sets
are now ready to head on out into the world!