Recipe: Energy Bars
Working in the dye studio is physically demanding: I'm on my feet all day, slinging heavy dye pots full of wet wool.  I like to make sure I bring lots of good snacks to the studio with me to keep my energy up all day.
Last winter I was in the habit of getting big boxes of store-bought energy bars to keep at the studio, but I was frustrated with them for a few reasons.  First of all they were too sweet, then there was the waste from all the packaging, and last but not least was the expense.  I knew I could make something better and cheaper at home, and since there was already a big jug of whey protein powder in my cupboard (my boyfriend uses it for smoothies) I started looking for recipes.
It took a few tries and a bit of experimenting, but I've found a recipe that works really well for me.  It's high in protein (about 10-12g per bar) and fairly low in sugar (about 7-8g per bar).  They hold their shape well, and keep in the fridge for up to two weeks. I like to make a big batch of 24 bars in a 13 x 9" baking dish, but if you want to start small I've written the recipe with two sizes, just like a knitting pattern. The smaller batch fits in a standard loaf pan and makes about 8 bars.
I hope you enjoy this energy boosting recipe!
A few notes on the ingredients:
The recipe calls for ground almonds, but they don't need to be finely or evenly ground. I usually just throw a few whole almonds in the blender for a minute or two. 
I use vanilla flavoured protein powder which is sweetened with stevia, since that's what we already have in the house. If you're using unsweetened protein powder you may want to increase the amount of honey slightly.
I've called for soy or nut milk because that's what I normally have around. This could be replaced by other liquids, just be careful to keep the bars refrigerated if you use cow milk. 
I usually use cashews or almonds for the chopped nuts and raisins or chopped dried apricots for the dried fruit, but pretty much any nuts or fruit would work. 
Fruit and Nut Protein Bars
Ingredients:

Use the 1st number in the ingredients list for a small batch of 8 bars, and the 2nd number (in brackets) when you're ready to go for a large batch of 24 bars. 
1 (3) cups oats
1/2 (1 1/2) cups whey protein powder 
3 tbsp (1/2 cup) ground almonds
1/2 (1 1/2) tsp salt
1/3 (1) cup chopped nuts 
1/3 (1) cup dried fruit 
1/4 (2/3) cup soy or nut milk
1/3 (1) cup natural peanut butter
4 tsp (1/4 cup) honey
1/4 (1/2) cup unsweetened shredded coconut
Directions:
Prepare your loaf pan or 13 x 9" baking dish by sprinkling half the shredded coconut over the bottom. This is going to help keep the bars from sticking to the pan so try to make the layer as even as possible. Reserve the other half of the coconut for the topping
Mix remaining dry ingredients together in a bowl. 
Add milk, peanut butter and honey and mix well (it's probably easiest to do this with your hands). The mixture will thicken slightly as the protein powder absorbs the liquid, and should end up about the consistency of a cookie dough.
Drop the mixture by small handfulls into the baking dish, covering the coconut as evenly as possible. 
Press the mixture into the pan to form an even, dense layer. Once it is evened out sprinkle the reserved coconut over the top and press it down into the mixture. 
Refrigerate the bars until they have hardened (I usually leave mine overnight, but 3-4 hours should be sufficient). 
Cut into bars with a sharp knife, and carefully remove them from pan. For the larger batch I like to make the first cut down middle of the pan, loosen the two sections with a knife or metal spatula, and remove them from the pan before cutting them into bars. 
Enjoy! Keep bars refrigerated until you're ready to pack them in your lunch to ensure they stay fresh.
Pan prepared with shredded coconut.
Dough dropped by handfulls into the baking dish.
Bars sprinkled with coconut and ready to be refrigerated.
Refrigerated dough removed from pan and sliced into bars.
If you try out the recipe let me know how it goes! These bars don't last too long in my house, but if you're not planning to eat them all within 2 weeks I would recommend freezing them to keep them fresh. 
---
Leave a comment
---
Also in News
We first met Catherine Knutsson, our collaborator on the
Beyond Merino yarn club
, when she organized the Great Canadian Wool-Along last summer as a way to celebrate crafting with local materials and supporting Canadian wool farmers. We loved the concept of the wool-along, and jumped at the chance to connect with a community of Canadian wool-lovers.
This year we're celebrating Sweet Paprika's 15th anniversary, and it's honestly been a bit hard to get my head around where the time has gone! We've been looking back through some of our old photos, and thought it would be fun to share a little retrospective here. Our little business has come a long way in the past 15 years!
Most of the images I'm including are not our polished product photos (although those have also come a long way since the early days), but more of a behind-the-scenes look at some of the memorable stepping stones along our journey.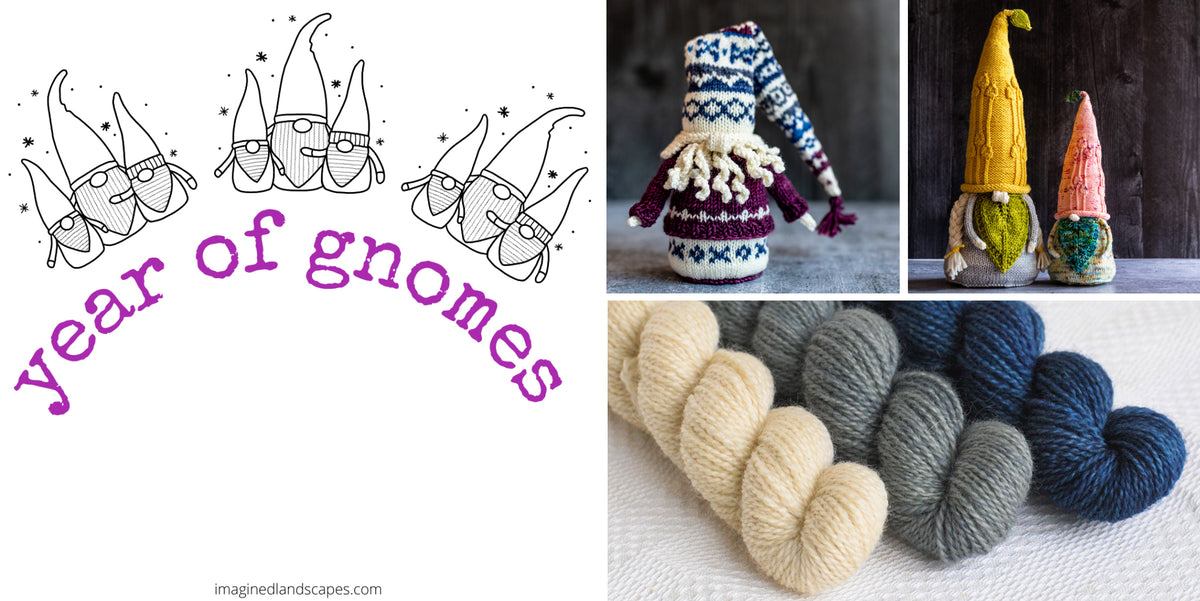 Last December, just as we were shutting down the dye studio for a holiday break, we got an email from one of our favourite customers telling us all about an upcoming event we might want to look into: the
Year of Gnomes Knit-Along
. We loved the idea, and couldn't resist joining in by dyeing up some mini-skein Gnome Sets for you to play with. We ordered in some special yarn as soon as we got back to work in January, and our
Gnome Sets
are now ready to head on out into the world!