Spring Collection 2020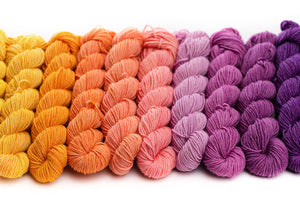 I've been working on recipes for some new colours to add to our yarn lines over the winter months, many of them inspired by thoughts of spring. We had intended to launch these at Knit City this weekend, but since that's been postponed I decided to take a moment to introduce you to them here on our blog instead!
Please note: quantities of these colours are limited right now, as we don't currently have access to our dye studio due to the COVID-19 situation. We will be dyeing more as soon as we are able to get back to work.
We've added four new colours to our Winfield worsted and Sutton bulky (which brings us up to a total of 20 colour options for these Canadian wool bases).
Celery is a bright and vibrant spring green. Shown here on Sutton, also available on Winfield.
Forget-Me-Not is a pale, cool blue, shown here on Winfield, and also available on Sutton.
Shiitake is a pale mushroom brown, shown here on Sutton, also available on Winfield.
Wizard is a rich and vibrant purple, shown here on Winfield, also available on Sutton.
We also wanted to round out our Grazioso silk/linen base this spring, since it's a great choice for lightweight projects to work on in warmer weather. The colours we chose are a bit less traditionally "springy" but fill in some gaps for this yarn line (we somehow didn't have any reds yet!).
Rosemary is a medium green with lots of depth.
Cinnamon Heart is a warm, rich red.
Silver Dollar is, well... silvery!
Fig is a deep, desaturated purple, with hints of navy and plum.
And last but not least, I had a lot of fun coming up with some new gradient colour schemes for Crescendo. We've added four new mini-skein sets, plus a new Molto Crescendo contrast colour. These can be combined in lots of fun ways, check out the Crescendo/Molto Crescendo Sets page for some of our favourites.
Flamingo, our new Molto Crescendo contrast, is a soft pink.
Pocketful of Posies, a gradient from pale pink, through purple to blue.
Millions of Peaches, a gradient from yellow through peach to pale pink.
Wintergreen, a light-to-dark gradient in shades of green.
Black Spruce, a green to black gradient which can be combined with Wintergreen go create a longer gradient for larger projects.
---
Leave a comment
---
Also in News
We first met Catherine Knutsson, our collaborator on the
Beyond Merino yarn club
, when she organized the Great Canadian Wool-Along last summer as a way to celebrate crafting with local materials and supporting Canadian wool farmers. We loved the concept of the wool-along, and jumped at the chance to connect with a community of Canadian wool-lovers.
This year we're celebrating Sweet Paprika's 15th anniversary, and it's honestly been a bit hard to get my head around where the time has gone! We've been looking back through some of our old photos, and thought it would be fun to share a little retrospective here. Our little business has come a long way in the past 15 years!
Most of the images I'm including are not our polished product photos (although those have also come a long way since the early days), but more of a behind-the-scenes look at some of the memorable stepping stones along our journey.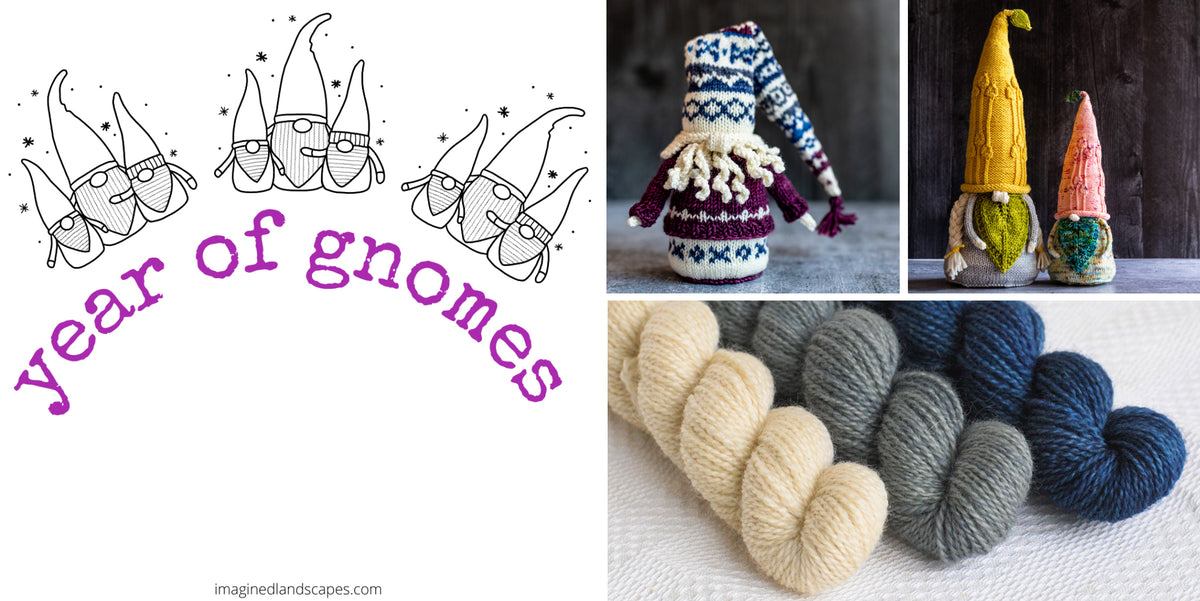 Last December, just as we were shutting down the dye studio for a holiday break, we got an email from one of our favourite customers telling us all about an upcoming event we might want to look into: the
Year of Gnomes Knit-Along
. We loved the idea, and couldn't resist joining in by dyeing up some mini-skein Gnome Sets for you to play with. We ordered in some special yarn as soon as we got back to work in January, and our
Gnome Sets
are now ready to head on out into the world!