Travel Report: Hong Kong Adventure
I love to travel. And it's been several years since I've been outside of Canada, so this year I was definitely getting itchy feet; I was ready to go on an adventure. Where to? My cousin has been living in Hong Kong for the past couple of years, so when she suggested we come to visit her, I jumped at the chance!
It took some convincing my husband that going on a 14+ hour plane ride with two small children was a good idea, but eventually he agreed. Yes, traveling with kids is different and can be exhausting, but we had an wonderful family vacation together, thanks in no small part to my cousin, our personal tour guide.

Exploring Kowloon Park on our first morning in Hong Kong
I'll admit that Hong Kong was not a place that I'd ever dreamed of going, but in a way that made it more fun because I was able to visit the city with no major expectations and just follow our 4-year old son's requests and interests. I had borrowed some books from the library to prepare him for the trip and he had quite the list of things he wanted to see and do!
There's no way I could possibly write about all the things we did, but one of my favourite adventures was our trip to see the Big Buddha (Tian Tan Buddha) on Lantau Island.
After a quiet morning and an early lunch, we met up with my cousin and took the MTR and then a bus to Ngong Ping, the site of the Po Lin Monastery and the Big Buddha. It's quite touristy with lots of shops and tour buses full of people. We went straight to the Buddha and climbed all 268 steps to get up to the top. After looking around for a while, taking in all the views, we climbed back down to the temple area of the monastery.
At this point my son announced that he wanted to go on a hike. That had not been in our plans for the day (we were planning a hike for later in the trip), but looking around we saw signs for a Wisdom Path so decided to follow them. After passing some abandoned buildings, we came to a lookout and the Wisdom Path itself which turned out to be a series of giant wooden columns inscribed with the Buddhist Heart Sutra. It was so peaceful and quiet up in the clouds away from the touristy area and it was fun to discover something we weren't expecting.
After contemplating the meaning of life, we meandered back to the bus stop area only to realize that it was after 5:30pm when absolutely everything closes, and we were pretty much the only ones left on the mountain aside from a few employees and some cows!

Photo credit: Veronica Schleihauf
Luckily there was still one more bus that evening so we hung out with the cows for a while until we could get back down the mountain and find some supper. All in all, one of many good days on our trip.

Waiting for our plane home
Goodbye Hong Kong, we hope to be back again someday.
P.S. Despite our fears, the kids did amazingly well on all the flights!
---
4 Responses
Leave a comment
---
Also in News
We first met Catherine Knutsson, our collaborator on the
Beyond Merino yarn club
, when she organized the Great Canadian Wool-Along last summer as a way to celebrate crafting with local materials and supporting Canadian wool farmers. We loved the concept of the wool-along, and jumped at the chance to connect with a community of Canadian wool-lovers.
This year we're celebrating Sweet Paprika's 15th anniversary, and it's honestly been a bit hard to get my head around where the time has gone! We've been looking back through some of our old photos, and thought it would be fun to share a little retrospective here. Our little business has come a long way in the past 15 years!
Most of the images I'm including are not our polished product photos (although those have also come a long way since the early days), but more of a behind-the-scenes look at some of the memorable stepping stones along our journey.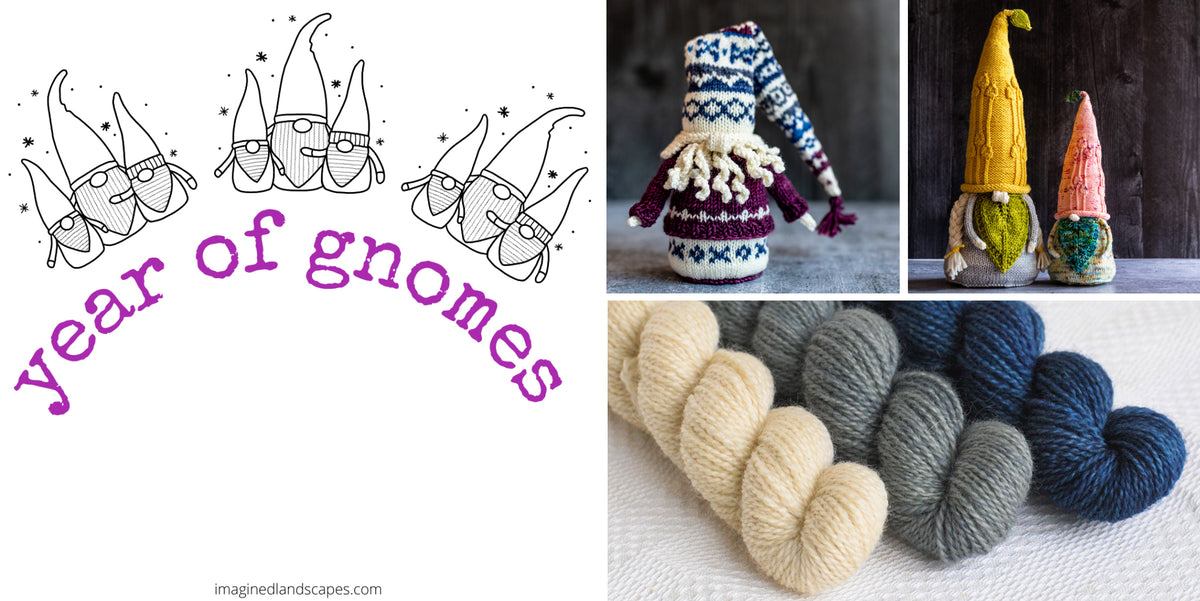 Last December, just as we were shutting down the dye studio for a holiday break, we got an email from one of our favourite customers telling us all about an upcoming event we might want to look into: the
Year of Gnomes Knit-Along
. We loved the idea, and couldn't resist joining in by dyeing up some mini-skein Gnome Sets for you to play with. We ordered in some special yarn as soon as we got back to work in January, and our
Gnome Sets
are now ready to head on out into the world!