"Year of Gnomes" Contest: Help Us Gname a Gnome!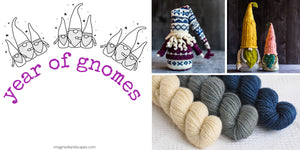 Last December, just as we were shutting down the dye studio for a holiday break, we got an email from one of our favourite customers telling us all about an upcoming event we might want to look into: the Year of Gnomes Knit-Along. We loved the idea, and couldn't resist joining in by dyeing up some mini-skein Gnome Sets for you to play with. We ordered in some special yarn as soon as we got back to work in January, and our Gnome Sets are now ready to head on out into the world!
"Never Not Gnomeing" and "Gnome Pun Intended" patterns by Sarah Schira
So what is the Year of Gnomes KAL? Designer Sarah Schira of Imagined Landscapes published her 12th gnome knitting pattern last year, and to celebrate she's hosting a year-long Gnome party throughout 2022. It's a low-stress and casual knit-along with the emphasis on FUN. You can join the knit-along (KAL) at any point, knit one gnome, or knit a dozen. Check out the Year of Gnomes page for all the information about joining the KAL and registering for prizes, plus a handy yardage chart for all the gnomes patterns.
We decided to use an untreated (non-superwash) BFL wool for our Gnome sets, and I had a ton of fun dyeing it up! It has a lovely luster and soft texture that will work beautifully for Sarah's patterns. And since these are one-of-a-kind sets I was free to play with the dyes and colours without writing down my recipes!
We're offering some sets of 3 mini-skeins and some of 4, so you can choose the number of colours required for the gnome pattern you're planning to make. Elizabeth and her family have been doing their part to join in the fun by naming all our Gnome Sets and giving them a bit of character. (Check out the individual pages to see each Gnome's favourite drink and favourite hobby!)
Help us Gname this Gnome!

We still have one set left to name though, and that's where you (and the contest) come in! Our top suggestion for this combination so far has been "Traffic Light Gnome" and we know you can help us do better than that...
So, leave a comment with your name suggestion below for a chance to win this set! Contest closes at the end of the day Monday, February 28, and we'll choose the winning name on March 1.
Contest is now closed. Thank you so much to all who contributed ideas. It was fun reading through them all! Congratulations to our winner, Laura, who will be receiving the newly named Ready, Set, Gnome! set.

---
36 Responses
Leave a comment
---
Also in News
We first met Catherine Knutsson, our collaborator on the
Beyond Merino yarn club
, when she organized the Great Canadian Wool-Along last summer as a way to celebrate crafting with local materials and supporting Canadian wool farmers. We loved the concept of the wool-along, and jumped at the chance to connect with a community of Canadian wool-lovers.
This year we're celebrating Sweet Paprika's 15th anniversary, and it's honestly been a bit hard to get my head around where the time has gone! We've been looking back through some of our old photos, and thought it would be fun to share a little retrospective here. Our little business has come a long way in the past 15 years!
Most of the images I'm including are not our polished product photos (although those have also come a long way since the early days), but more of a behind-the-scenes look at some of the memorable stepping stones along our journey.
Saltwater Gifts
is the third book in the Saltwater Knits series written by Christine LeGrow and Shirley A. Scott. Like the first two books,
Saltwater Mittens
and
Saltwater Classics
, this book is grounded in Newfoundland tradition and includes many quotes, stories, and beautiful photography.