Refined Knits: book review and yarn give-away
Refined Knits: Sophisticated Lace, Cable, and Aran Lace Knitwear is a new book by Jennifer Wood (recently published by Interweave), which includes our Messa di Voce as the suggested yarn for one of the sweater projects. Jennifer was kind enough to arrange for us to receive a review copy of the book, and I've been enjoying having it out on my coffee table the last few weeks (along with a couple of other Interweave publications). It's a beautifully put-together book, full of knitting inspiration.
Elizabeth has been working with Jennifer for several years as a technical editor for her self-published patterns, and we've collaborated on a few projects before. Jennifer designed Morisot for our Sweater Club a few summers ago, and another of her designs is included in our current Shawl Club. Her work is always beautiful, and when she asked us about yarn for this book I happily put a couple of skeins in the mail for her, excited to see what wonderful pattern she would produce with it.
And of course, I was not disappointed! Victoria is a graceful pullover with delicate lace details and a very flattering neckline.
In fact, the whole book is a reflection of Jennifer's thoughtful attention to detail. It is divided into three sections: Enduring Cables, Graceful Lace, and Elegant Aran Lace. Each section includes patterns for beautiful and also very wearable garments and accessories. I love that Jennifer shares her inspiration for each pattern, and even lists stitch dictionaries and other sources of reference at the back of the book.
She is also very generous with tips and techniques, from detailed construction diagrams and instructions on cabling without a needle to a whole page of insight into the math needed to modify the Louisa cowl pattern to fit your own yardage or personal style.
Speaking of which, I did find that the outfits and styling chosen for the pattern photos are very far from my own personal style. The models look lovely, but I definitely needed to look past the hair and makeup to see how these garments could work in my wardrobe. One of my favourite pieces in the book, the Keavy sweater, is something that I would love to own - I just might need to knit one for myself. I'm much more likely to pair it with jeans though!
One small criticism of the book is that, for all the information that is provided, there isn't much detail about choosing a size or determining fit for the sweater patterns. In fact, the same model is shown wearing three different sweaters, with finished bust measurements of 28 3/4", 36", and 40 3/4". They all look great on her, but were obviously designed to be worn with different amounts of ease. I'm sure many knitters would find it helpful to have a bit more information about the how the garments are intended to fit when picking a size to knit.
I do know that Jennifer has a very active group on Ravelry (Wood House Knits) and will be running KAL's for patterns from the books, so I'm sure that if you have any questions about the fit she would be happy to give guidance.
Overall though, I think this is a gorgeous and very thoughtfully assembled book and we're quite thrilled to have our yarn in it. I'll hopefully find the time to knit at least one or two of the sweaters (Willa is another favourite), but it also serves both as a resource for techniques and as an inspiration for combining shapes, construction, and stitch patterns into beautiful patterns.
Now that you've read your way through all that, maybe you're wondering about the yarn give-away? Well, we're giving away 3 skeins of Messa di Voce, enough to knit the Victoria pattern in any size. To enter, simply comment below and let us know which colour you would choose if you win! Contest closes at midnight EST on Wednesday March 16.
Contest is now closed. Thank you to everyone who participated, and congratulations to our winner, Mary, who will be receiving three skeins of Cardamom as her prize!
---
100 Responses
Leave a comment
---
Also in News
We first met Catherine Knutsson, our collaborator on the
Beyond Merino yarn club
, when she organized the Great Canadian Wool-Along last summer as a way to celebrate crafting with local materials and supporting Canadian wool farmers. We loved the concept of the wool-along, and jumped at the chance to connect with a community of Canadian wool-lovers.
This year we're celebrating Sweet Paprika's 15th anniversary, and it's honestly been a bit hard to get my head around where the time has gone! We've been looking back through some of our old photos, and thought it would be fun to share a little retrospective here. Our little business has come a long way in the past 15 years!
Most of the images I'm including are not our polished product photos (although those have also come a long way since the early days), but more of a behind-the-scenes look at some of the memorable stepping stones along our journey.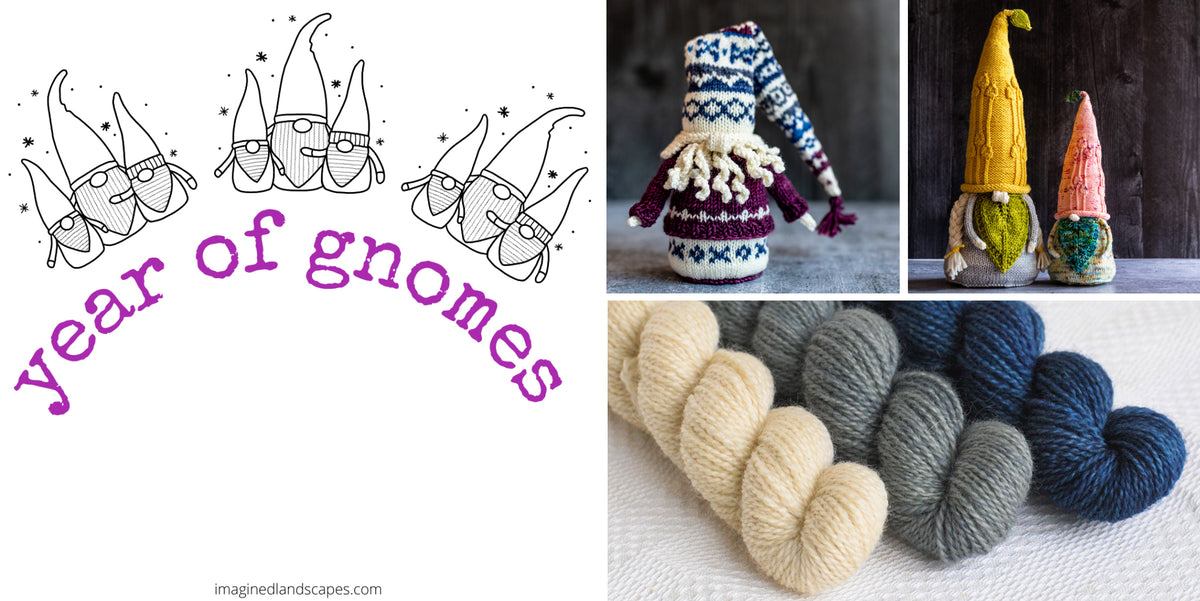 Last December, just as we were shutting down the dye studio for a holiday break, we got an email from one of our favourite customers telling us all about an upcoming event we might want to look into: the
Year of Gnomes Knit-Along
. We loved the idea, and couldn't resist joining in by dyeing up some mini-skein Gnome Sets for you to play with. We ordered in some special yarn as soon as we got back to work in January, and our
Gnome Sets
are now ready to head on out into the world!