Shawl Club 2016 – Designers and Artists
One of the best parts about running Sweet Paprika is the chance to make friends with other designers, artists, and small-business owners both locally and globally.
Let me introduce you to all the people who have helped make the 2016 Sweet Paprika Shawl Club happen:
KIRA DULANEY - DESIGNER OF THE APRIL SHAWL PATTERN
I've been working with Kira as a tech editor for many years now and knew that she would be a great fit our project. I've long admired her shawl patterns in particular and love the way she organically combines stitch patterns and yarn in her designs.
Kira Dulaney is the designer behind Kira K Designs, a line of original knitting and crochet patterns with a streamlined and eminently wearable aesthetic. Kira's designs include garments and accessories in a wide size range, featuring clean lines and intriguing details that are both interesting to make and easy to wear. Kira has been teaching knitting and crochet classes in the San Francisco Bay Area and beyond since 2002.
Favourite Tea: My favorite tea is masala chai that I make with almond milk.
FANCY THAT, CREATIONS BY FRANCINE – STITCH MARKERS AND SHAWL PINS
I believe Debbie and I first met Francine at the very first Twist Festival in 2012 and we've been running into her at fibre events ever since. Francine made my very favourite pair of stitch markers so she was an obvious choice for our club!
Francine is a mother to 3 kids - a boy of 21 years and twin girls of 17 years. She's curious, creative, book loving, an obsessive knitter, spinner, and midnight Pinner. She's quite content with life. Her passion for knitting led to a job, friends and her own business. She loves teaching and sharing her love for knitting and passing on an ancient craft that ties us to the past. Making bling for your knitting is fun and enables her to vend at fiber events and to meet more fiber obsessed people.
Favourite Tea: I love any rooibos or herbal teas because I'm very affected by caffeine.
RONY from PURE TEA
I knew from the very start that I wanted to include tea in each shawl club package, but this was the last piece of the puzzle to fall into place. I really wanted to work with another small business locally, so was very pleased to find out about Puretea. I love the fact that they make local deliveries in their neighbourhood by bicycle!
Founded in 2007, Puretea creates no illusions or false pretenses. The simplicity and directness of its name embodies, to a tea, the spirit of its product. Unlike most store-bought brands, Puretea comes in a loose form. Not only is this form more aesthetically pleasing, it also guarantees a unique quality and freshness. Puretea has been recognized for its commitment to sustainable business practices and its active involvement in the Montreal community. 
Favourite Tea: If I had to choose, I would say the Classic Masala Chai. A perfect balance of sweet & spicy, it tastes great infused in simple water as a regular tea but I prefer to have it the traditional way, boiled, strained, sweetened to taste with a gulp of milk.
JENNIFER WOOD - DESIGNER OF THE AUGUST SHAWL PATTERN
Although we've never met in person, Jennifer is a friend and collaborator who also started out as a tech editing client of mine. She does beautiful things with yarn which is a bit dangerous since I want to knit practically everything she's ever designed!
Jennifer Wood began Wood House Knits in 2009. Her designs unite classic and modern styling with beautifully detailed patterns for a contemporary romantic feel. Most are created with top down construction that is easily adjustable, making them wearable and elegant.
Refined Knits (Interweave, 2016), Jennifer's first book, showcases 18 of her beautiful designs. For Jennifer, designing knitwear is a wonderful adventure, allowing her to express her creative impulses and drawing her closer to the Creator of all. The creative process—watching and feeling abstract ideas take on a tangible form—continues to amaze her. 
Favorite tea: Constant Comment, because of it's wonderful aroma and taste of orange and sweet spice.
TUDOR PARAU - PHOTOGRAPHER
I was quite worried when our cousin, and usual photographer, left for an adventure in Malaysia before we could photograph the shawls for this club. Happily, a mutual friend introduced us to Tudor who has been amazing to work with and I think you'll agree that he has a great eye for knitting details.
Tudor is a Professional Photographer with a background in film who has finished his Bachelor's Degree in Film Animation at Concordia University. He has decided to take his studies further by better understanding human emotions and their interactions through photography. At this point his understanding of film, and love for photography have created a deep passion for capturing the sincere moments of human nature in a magical way. He strives to perpetually improve his skills and expand his knowledge in order to create images that are touching, motivational or, simply put, awesome!
Favourite Tea: I recently discovered the Buddha's Blend, a white tea (from Dave's Tea) with a fruity flavor, smooth texture and many health benefits. It's one of the better ways to relax while reading or when I spend a few to many hours in front of the computer editing. 
---
1 Response
Leave a comment
---
Also in News
We first met Catherine Knutsson, our collaborator on the
Beyond Merino yarn club
, when she organized the Great Canadian Wool-Along last summer as a way to celebrate crafting with local materials and supporting Canadian wool farmers. We loved the concept of the wool-along, and jumped at the chance to connect with a community of Canadian wool-lovers.
This year we're celebrating Sweet Paprika's 15th anniversary, and it's honestly been a bit hard to get my head around where the time has gone! We've been looking back through some of our old photos, and thought it would be fun to share a little retrospective here. Our little business has come a long way in the past 15 years!
Most of the images I'm including are not our polished product photos (although those have also come a long way since the early days), but more of a behind-the-scenes look at some of the memorable stepping stones along our journey.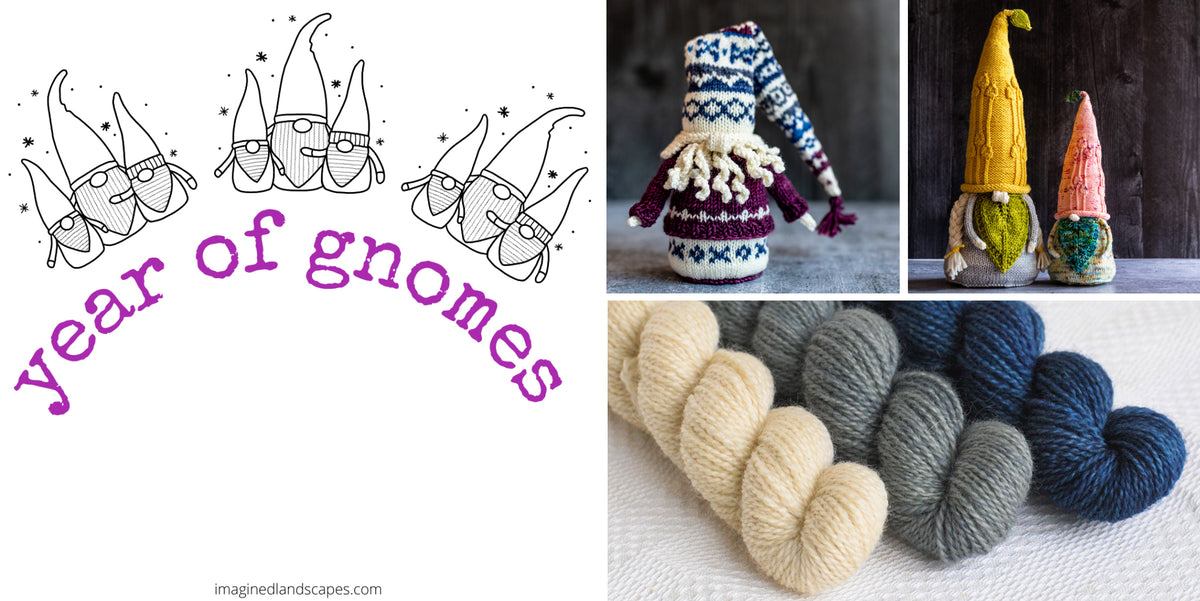 Last December, just as we were shutting down the dye studio for a holiday break, we got an email from one of our favourite customers telling us all about an upcoming event we might want to look into: the
Year of Gnomes Knit-Along
. We loved the idea, and couldn't resist joining in by dyeing up some mini-skein Gnome Sets for you to play with. We ordered in some special yarn as soon as we got back to work in January, and our
Gnome Sets
are now ready to head on out into the world!