Grazioso Mini-Collection + Make-Along
Would you like to knit one of these awesome patterns? Enter our contest on Instagram for a chance to win one of the patterns in this collection! Contest closes Sunday June 30th.
We're thrilled to announce that all three patterns in the Grazioso mini-collection have now been released! Since last fall we've been working with independent designers to provide yarn support for some amazing new patterns, starting with a small collection of designs for Presto last fall, and then Crescendo earlier this year.
For this mini-collection we sent our Grazioso linen/silk blend lace-weight yarn to three designers from around the world, and they each did a beautiful job transforming their skeins into perfect projects to inspire your summer knitting. And in order to celebrate summertime crafting we're hosting a Grazioso Make-along starting July 1. Keep reading for more details!
Living Coral Shawl
First up in this mini-collection is the lovely Living Coral Shawl pattern by Jayalakshmi, from Mumbai, India. This top-down, lightweight, crescent shawl is knit in our Coral colourway and Jaya says that it's "an exploration of the coral color in terms of both yarn and lace pattern - the plain stockinette section showcases the warm, vibrant yet tranquil color, and the layers of repeating lace motifs are reminiscent of overlapping petals, giving the shawl an ethereal look." 
This pattern uses just one skein of Grazioso, and I think it would be a perfect knitting project for a beach vacation.  
Starry Skies Wrap
Next is the Starry Skies Wrap by Fiona from MunroSisters3. These three Scottish sisters were taught to knit by their grandmother when they were young, and now they collaborate and work together to produce their own designs. Their story is very similar to our own, and we were super pleased to be introduced to their work through this project. 
The Starry Skies Wrap is worked flat as two pieces, which grafted together at the centre of the wrap with Kitchener Stitch. The lace motif is inspired by a skyline of flowers against a starry sky, and although the sample is worked in our Dandelion colourway I think it would also look stunning in a darker colour, such as Wild Blueberry. 
Orange Song Top
Last, but most definitely not least, we have the Orange Song Top by Nadya Stallings. The pattern for this lightweight summer top is sized for bust circumferences from 32-60" and uses just 1-2 skeins of Grazioso, even for the larger sizes. Nadya used a unique construction method for this top, starting with the lace portion for the upper body worked sideways, picking up stitches for the back and front to work downwards, and incorporating short rows to shape the shoulder line.
I still haven't decided what my Grazioso project will be this summer, and this pattern is high on my list of possibilities. The sample is worked in our vibrant Apricot colourway, which I really love, but if I make one for myself it will probably be in something a bit more muted - Copper Penny maybe?
Speaking of summer projects, we're hosting a Make-Along in our Ravelry group this summer specifically for projects using Grazioso. Any and all projects using this yarn are welcome: knitting, crochet, weaving, tatting, and anything else you can think of!
To kick off the MAL we're offering a discount of 25% off all Grazioso on our website from now until July 3rd, no coupon code required. 
You can find more details about the MAL and how to join in our Ravelry group. Hope to see you there!
---
Leave a comment
---
Also in News
We first met Catherine Knutsson, our collaborator on the
Beyond Merino yarn club
, when she organized the Great Canadian Wool-Along last summer as a way to celebrate crafting with local materials and supporting Canadian wool farmers. We loved the concept of the wool-along, and jumped at the chance to connect with a community of Canadian wool-lovers.
This year we're celebrating Sweet Paprika's 15th anniversary, and it's honestly been a bit hard to get my head around where the time has gone! We've been looking back through some of our old photos, and thought it would be fun to share a little retrospective here. Our little business has come a long way in the past 15 years!
Most of the images I'm including are not our polished product photos (although those have also come a long way since the early days), but more of a behind-the-scenes look at some of the memorable stepping stones along our journey.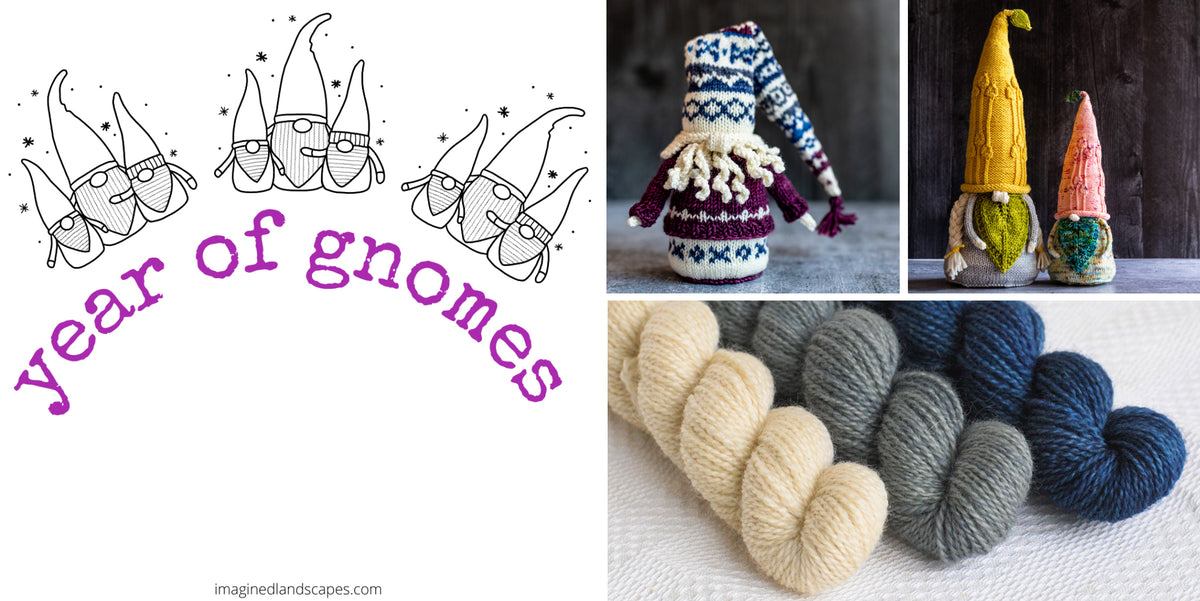 Last December, just as we were shutting down the dye studio for a holiday break, we got an email from one of our favourite customers telling us all about an upcoming event we might want to look into: the
Year of Gnomes Knit-Along
. We loved the idea, and couldn't resist joining in by dyeing up some mini-skein Gnome Sets for you to play with. We ordered in some special yarn as soon as we got back to work in January, and our
Gnome Sets
are now ready to head on out into the world!