Learning to Spin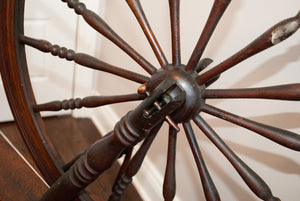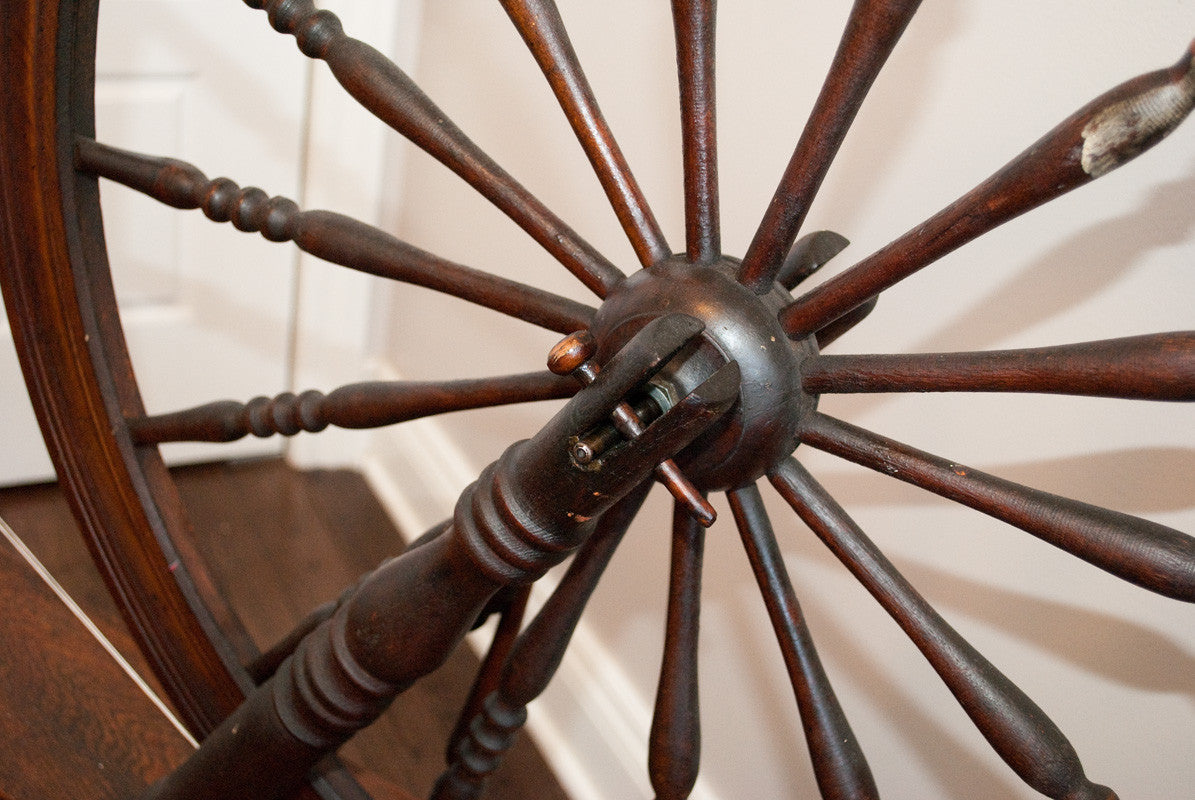 I've been wanting to learn to spin yarn for the longest time, and over the past few years I've picked up a couple of spindles and tried my hand at it a few times. I kept trying to learn in different ways, from books, from online videos, and even did a short introductory workshop. And although I was progressing and getting better it seemed like an awfully slow process.
I also really wanted to learn to spin on a wheel - especially since I was given an antique wheel last fall. It needs a few minor repairs though, and I've also read that learning on an antique wheel can be a frustrating experience. Modern wheels tend to be kinder to beginners.
So, after some investigation I found out that if I became a member of the Ottawa Valley Weavers' and Spinners' guild, I could not only take a workshop on wheel spinning but I could rent a wheel to take home with me. Unfortunately there doesn't seem to be any organization like this in Montreal right now, but I decided that it was worth the trip to Ottawa and I went ahead and signed up.
I asked to rent the sturdiest wheel they had, since I would be taking it home on the train with me, and I ended up with this lovely Louet. It's been great to have it around to sit down at for a few minutes here and there. Since I've only got it for a few months I've been pretty motivated to use it as much as I can while it's here!
These photos show some of my spindle-spun yarn (above) compared with my first yarn spun on the wheel (below). The wheel-spun yarn is quite loose, as I found it hard to judge how much twist I was getting at first. It is more even though, probably because I did it all in one afternoon rather than putting it down and picking it up days later which I tend to do with the spindle.
My second attempt, using the same Corriedale fibre, is still on the bobbin. You can see I'm starting to get more twist in it, but it's not very even so now there are lots of lumps - always something to improve!
Once I'd used up all the Corriedale from the workshop I really wanted to try spinning some of the Norbouillet roving I'd kept aside when we spun our Norwood and Elora yarns last fall. I decided to make the singles for this a bit finer, and I might try plying three of them together depending on how much length I end up with.
I was making quite good progress on this when a friend happened to mention seeing an ad for a Canadian Production Wheel for sale. This is a type of wheel that was popular here in Quebec about a century ago. The one advertised was actually very similar to the antique wheel I already had, but from the hot pink yarn on the bobbin in the photo I could tell it had been used much more recently!
I couldn't resist and ended up buying it so now I have three wheels at home, at least until the Louet goes back to Ottawa. The new antique wheel needed a little oil, but other than that it's in great condition. I did a bit of a test-drive with it using some roving I'd bought a while ago from Wellington Fibres.
You can still see a bit of the hot pink underneath, I was too anxious to try it out to bother taking it off. This wheel is fast, and puts in much more twist more quickly than the Louet, so it will be another learning process to make the switch, but it's one that I'm excited to start. I'm really enjoying finally making some progress with this skill, although I have a feeling I may soon be making more yarn than I have time to knit...
Save
Save
Save
Save
Save
Save
---
5 Responses
Leave a comment
---
Also in News
We first met Catherine Knutsson, our collaborator on the
Beyond Merino yarn club
, when she organized the Great Canadian Wool-Along last summer as a way to celebrate crafting with local materials and supporting Canadian wool farmers. We loved the concept of the wool-along, and jumped at the chance to connect with a community of Canadian wool-lovers.
This year we're celebrating Sweet Paprika's 15th anniversary, and it's honestly been a bit hard to get my head around where the time has gone! We've been looking back through some of our old photos, and thought it would be fun to share a little retrospective here. Our little business has come a long way in the past 15 years!
Most of the images I'm including are not our polished product photos (although those have also come a long way since the early days), but more of a behind-the-scenes look at some of the memorable stepping stones along our journey.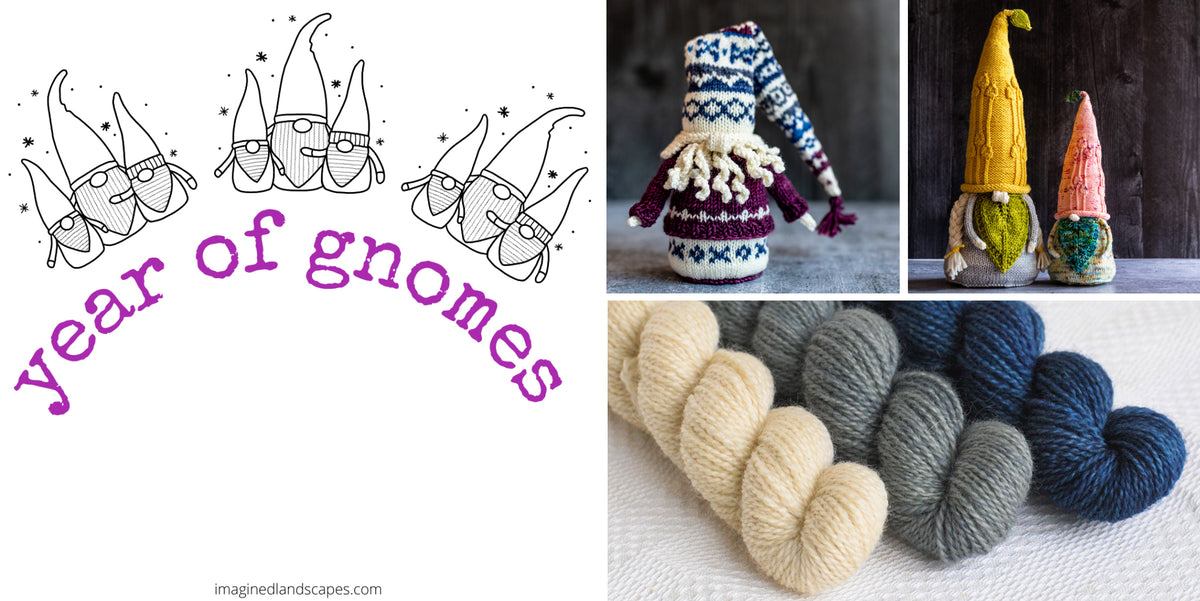 Last December, just as we were shutting down the dye studio for a holiday break, we got an email from one of our favourite customers telling us all about an upcoming event we might want to look into: the
Year of Gnomes Knit-Along
. We loved the idea, and couldn't resist joining in by dyeing up some mini-skein Gnome Sets for you to play with. We ordered in some special yarn as soon as we got back to work in January, and our
Gnome Sets
are now ready to head on out into the world!