Unity: An interactive fibre art installation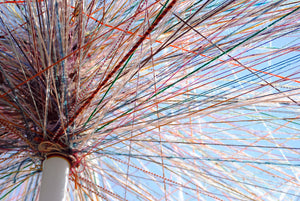 This past weekend I had the pleasure of witnessing (and participating in) a public art installation involving - you guessed it - a ton of yarn!
I was attending the Shelter Valley Folk Festival, a music festival held on a family farm outside of Grafton, overlooking Lake Ontario. I've been to Shelter Valley every Labour Day weekend for the past 13 years, and part of what keeps me going back is the incredibly strong sense of community among the organizers and festival-goers. UNITY is an interactive art installation which creates a physical representation of that community, documenting our similarities, differences, and ultimate interconnectedness.
The set-up for this installation is a central pole, surrounded by a ring of 32 outer poles, each of which is labeled with an identifying characteristic, ranging from "I'm a cat person" to "I'm a survivor" to "I identify as LGBTQ". Each participant is invited to choose a yarn to tie around the central pole, and then wind it around each outer pole that they identify with.
The resulting interwoven fabric becomes a physical manifestation of the community which creates it. UNITY is a project initiated by Nancy Belmont, who created the first project in June 2016 in Virginia, with the hope "to raise consciousness about the labels we give ourselves and others and explore how those labels both support and limit building interconnected, interesting communities".
For participants in the project, the experience can range from playful to very emotional, as they are invited to contemplate their own identity and place within community. It can also be an experience of self-reflection, as you ask yourself which poles you will wrap your own strand around. Interestingly, although there were many poles that I chose to wrap, the one where I immediately felt, "yes, that's me" is the one pictured above: "I work at more than one job."
The end result of these personal choices of participants is being able to "read" in some ways the composition of the community by comparing the number of wraps on each pole. As I was starting my journey around the ring, a woman noted with concern that one pole had so many wraps that is was starting to bend slightly in towards the centre. She checked which pole it was and we realized it was labeled "I have hope".
As well as the significance of all that the intertwined threads represent, the web that was created became a beautiful and fascinating piece of fibre art, spanning 40 feet and incorporating yarn of all colours and textures.
This was an inspiring piece to watch evolve over the weekend, and I really appreciated having the chance to participate. If you are interested in creating a UNITY project in your own community you can find more information at www.unityproject.net.
SaveSave
T
Save
Save
Save
---
1 Response
Leave a comment
---
Also in News
We first met Catherine Knutsson, our collaborator on the
Beyond Merino yarn club
, when she organized the Great Canadian Wool-Along last summer as a way to celebrate crafting with local materials and supporting Canadian wool farmers. We loved the concept of the wool-along, and jumped at the chance to connect with a community of Canadian wool-lovers.
This year we're celebrating Sweet Paprika's 15th anniversary, and it's honestly been a bit hard to get my head around where the time has gone! We've been looking back through some of our old photos, and thought it would be fun to share a little retrospective here. Our little business has come a long way in the past 15 years!
Most of the images I'm including are not our polished product photos (although those have also come a long way since the early days), but more of a behind-the-scenes look at some of the memorable stepping stones along our journey.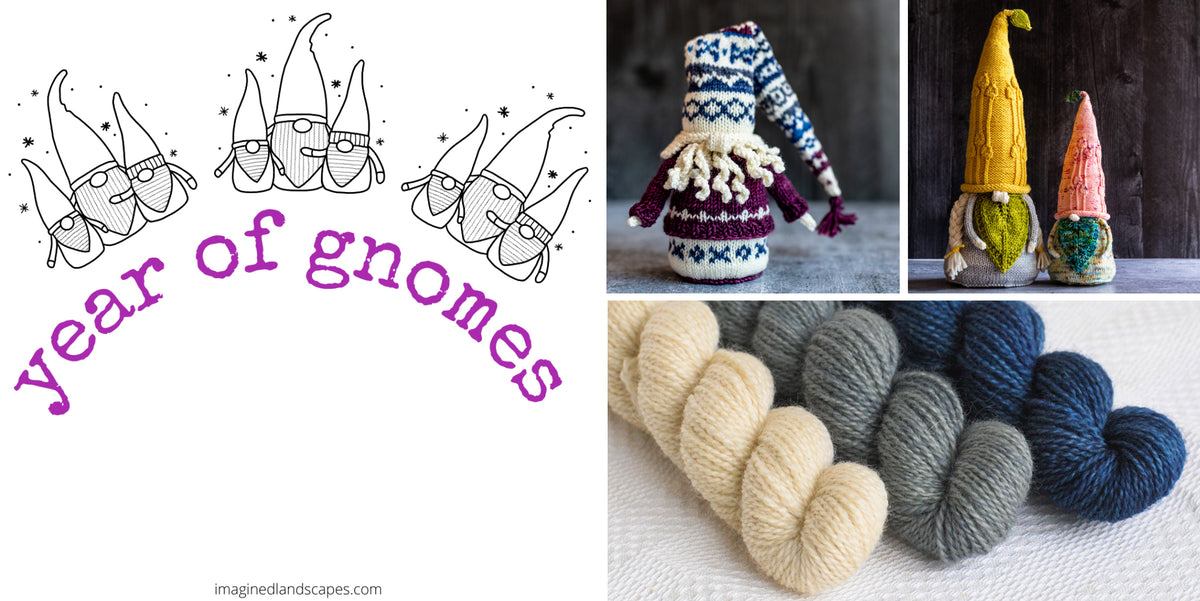 Last December, just as we were shutting down the dye studio for a holiday break, we got an email from one of our favourite customers telling us all about an upcoming event we might want to look into: the
Year of Gnomes Knit-Along
. We loved the idea, and couldn't resist joining in by dyeing up some mini-skein Gnome Sets for you to play with. We ordered in some special yarn as soon as we got back to work in January, and our
Gnome Sets
are now ready to head on out into the world!