My First Pair of Saltwater Mittens
Last fall knitting friend who had just returned to Montreal from a trip to St John's mentioned to me the delightful work of Christine LeGrow and Shirley Scott. They are working hard to document and preserve the Newfoundland tradition of "trigger mitts". I was intrigued by what I heard, and became further interested last December when one of our aunts sent me and Elizabeth the link to a short documentary piece on CBC's the Sunday Edition about their new book. I still hadn't yet gotten my hands on a copy of the it when the lovely folks at Boulder Publications contacted us earlier this year and asked if we would be interested in carrying Saltwater Mittens From the Island of Newfoundland. But by then we had heard such good things about it already that we happily said "yes"!
I had high expectations for this book, and when we got our first batch of them in the mail and I finally got a chance to read it myself I wasn't disappointed. The mittens featured in the book are both practical and beautiful, featuring bold and graphic traditional colourwork patterns. They're traditionally knit from sturdy wool that stands up well to use in all weather and use the unique Newfoundland "trigger finger" construction for warmth and dexterity.
One of the things I love about the way this book is put together is that all of the designs are shown in multiple variations and colour combinations (such as the Big Diamonds pattern in the photo above). This makes the book itself a visual treat, and I think also encourages the reader to have fun and experiment with creating their own combinations, rather than attempting to make exact replicas.
For knitters who are new to working with two colours these patterns may seem a bit daunting, but the authors carefully walk the knitter through each step of planning and executing their project. Their conversational tone makes the detailed instructions very accessible, and they cover every aspect of the process from yarn selection and colour choices to increase and cast-off techniques. They also recommend beginners start with a pair of "Wee Ones" (their baby mitt pattern, shown above) as a way to practice the colourwork techniques on a small project with minimal shaping. 
 Although the baby mitts are adorable, and I'm sure I will knit a pair or two in the future, I actually need a new pair of mittens myself, so decided that I would try my hand at a pattern called Spring Ice, which is given in a women's size and features the traditional trigger mitt shaping.
I'm working these up in Andante (our superwash merino worsted weight) and am super pleased with how they're turning out. Once I got started on the pattern it was hard to put down, I kept wanting to knit one more round to see the design continue to emerge under my needles. 
Another charming aspect of the book is the inclusion of little tidbits of wit and wisdom from Newfoundland knitters, and I think my favourite is this quote from Elizabeth Warner: 
I unfortunately am not so practiced at knitting in my sleep, so eventually had to give in and leave my newly started mitt to go to bed, but not before I had nearly completed all the thumb gore increases! 
I think the rest of these mitts will knit up very quickly, and I might get them done while it's still cold enough to need them this year... 
We have the Saltwater Mittens book available now, so if you're inspired to join me in being part of this continuing mitten tradition you can purchase your own copy right here! 
---
20 Responses
Leave a comment
---
Also in News
We first met Catherine Knutsson, our collaborator on the
Beyond Merino yarn club
, when she organized the Great Canadian Wool-Along last summer as a way to celebrate crafting with local materials and supporting Canadian wool farmers. We loved the concept of the wool-along, and jumped at the chance to connect with a community of Canadian wool-lovers.
This year we're celebrating Sweet Paprika's 15th anniversary, and it's honestly been a bit hard to get my head around where the time has gone! We've been looking back through some of our old photos, and thought it would be fun to share a little retrospective here. Our little business has come a long way in the past 15 years!
Most of the images I'm including are not our polished product photos (although those have also come a long way since the early days), but more of a behind-the-scenes look at some of the memorable stepping stones along our journey.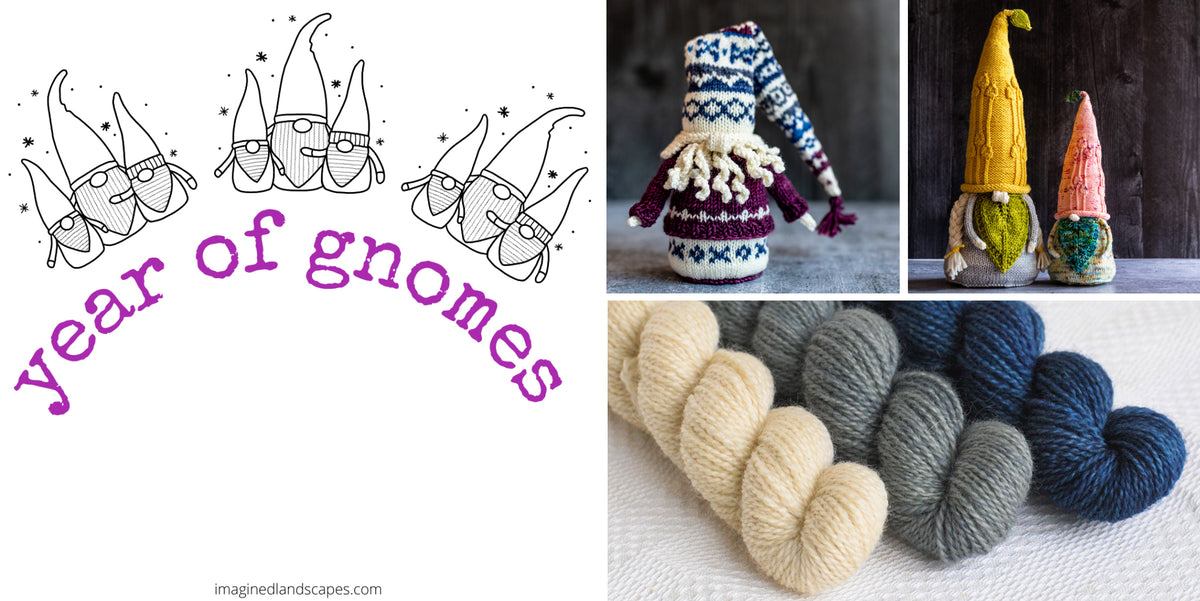 Last December, just as we were shutting down the dye studio for a holiday break, we got an email from one of our favourite customers telling us all about an upcoming event we might want to look into: the
Year of Gnomes Knit-Along
. We loved the idea, and couldn't resist joining in by dyeing up some mini-skein Gnome Sets for you to play with. We ordered in some special yarn as soon as we got back to work in January, and our
Gnome Sets
are now ready to head on out into the world!